Wind Energy Industry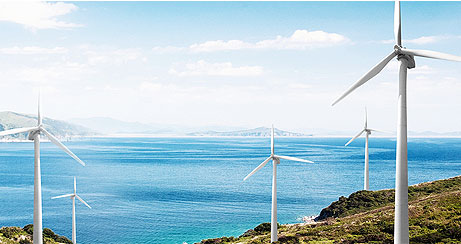 Huayi Wind Energy Co.,Ltd was founded in 2002 is the wholly-owned subsidiary of Huayi Electric Co.,Ltd.(stock code:600290). It mainly works on: development, manufacturing, sales and service of wind power generation systems, wind turbine generator system and components; measurement and evaluation of wind resources; construct and run wind farm and take overall responsibility of wind farm project; technical advisory services on wind farm construction and operations.
Huayi Wind Energy takes the enterprise mission with "Develop New Energy, Create New Life!" and engages in construction of human clean energy. The company has set up "Three Centers": Yueqing Management Center, Shanghai WTG R&D Center and Beijing Marketing Center, and "Five Manufacture Bases": Yueqing Huayi wind power industrial park, Jilin Tongyu Huayi wind power industrial park, Shanghai Lingang Huayi wind power industrial park, Ningxia Pingluo Huayi wind power industrial park and Heilongjiang Mudanjiang Huayi wind power industrial park
At present, Huayi Wind Energy has volume production of the HW1 (780kW) type system which is researched and developed independently, volume production of the HW2 (1500/2000KW) and HW3 (2500/3000kW) series which are developed under the cooperation with famous fan design company Aerodyn Company of Germany and GH Company of the UK; and has developed 6.0MW large offshore wind turbine with Netherlands MECAL company. In 2008, our company exported HW1 series wind turbine to Chile and run successfully, made our company the first enterprise exported utility-type unit in China. Due to the excellent power performance, we regained the project investment in only two years. In recent years, our wind turbine generator systems have favorable operation condition in Guangdong, Zhejiang, Shandong, Shanxi, Jilin, Inner Mongolia, Ningxia, Heilongjiang, etc., and export to Chile, Belarus, Kazakhstan and so on, which gain good recognitions and praises from the clients.